PGA Junior League Golf is a fun, social and inclusive opportunity for boys and girls ages 13* and under to learn and enjoy the game of golf. Much like other recreational league sports, participants wear numbered jerseys and play on teams with their friends. PGA Junior League Golf utilizes a popular scramble format that creates a nurturing environment for learning and development.
Each team is captained by a PGA or LPGA Professional, who serves as the coach and is at the forefront of creating a welcoming environment for all to enjoy the game. StonyCreek's captain is Head Golf Professional John Van Valer.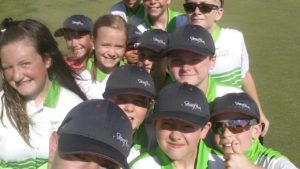 In 2017 there were 42,000 players on 3400 teams nationally and nearly 100 teams in Indiana. In 2017, StonyCreek was in the Hamilton County East League which included a team from Brookshire, Harbour Trees, Purgatory, Sagamore, & StonyCreek.
StonyCreek has 12 roster spots on our team, and returning players who have not aged out are guaranteed a spot. To get on the waitlist for team StonyCreek, email John Van Valer.
Cost is $165 and includes team jersey & hat, 5-6 practices and 4-6 matches depending on the size of our league.
*Players must not turn 14 prior to 8/1/18