2017 will be the 10th season for Big Juniors. The program is for golfers ages 10-15 who interested in playing competitive golf.  It is designed to ready players for tournament and school team play. In 2017, we will meet on Mondays & Wednesdays starting June 7th and finish July 19th (No July 3rd). All days will include 9 holes of supervised play (9 times on the Par 3 Course, & 3 on the Championship Course) and six of the sessions will include 45 minutes of group instruction with the StonyCreek Golf Professionals.
Big Juniors Enrollment Form 2017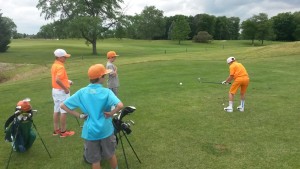 In order to ensure each player receives individual attention, the program is capped at 20 players.
Cost is $225.  If you have questions please contact John Van Valer