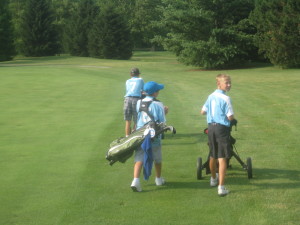 PGA Junior League Golf (PGA JLG) is designed to better socialize the game for boys and girls, ages 13 and under. PGA JLG features team vs. team competitions in structured leagues that provide a popular, less stressful scramble format as opposed to stroke-play competition. This is a great way to get kids involved in the game!
This will be the third year that Indiana has been involved in this program.  Our Noblesville League consists of teams from:
StonyCreek Golf Club
Harbour Trees
Fox Prarie/Forest Park
Sagamore
Brookshire
Our Team is currently full but we will be happy to help you find a team for your junior to play on.